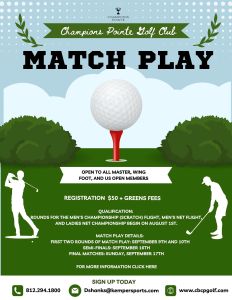 Please sign up for the Inaugural Champions Pointe four-day Kemper Match Play Championship. Qualification for the 16 slots in Men's Championship(Scratch) Flight, the 16 slots in the Men's Net Flight and the Ladies Net Championship will begin on August 1st. The first two rounds of match play will take place on September 9th and 10th. The semi finals will occur on September 16th, with the final matches, to determine the Champions, will take place on Sunday, September 17th.
Sign up at any time. All Master, Wing Foot and US Open Members are eligible to compete. The cost for qualifications and the event itself will be only $50 total, plus applicable greens fees. Qualification rounds can occur on any day in August. Players must declare in the Champions Pointe Golf Shop before playing that the round is a qualification round and turn in the scorecard afterwards. The Men's Champion fight will be playing from the White Tees and the Men's Net flight will be playing from the Grey Tees. The Ladies Champion flight will be played from the Red Tees. It is highly suggested that qualifying rounds be played from those tees. Scores turned in but played from different tees will be subject to adjustment of scores. Only rounds at Champions Pointe can count for qualification and must be turned into the shop by the close of business on August 31st. Players may attempt to qualify as many times as they want, without any further entry fees.
For the men, the top 16 scratch scorers and the top 16 net scorers will be matched up respectively for the 1st rounds of play on September 9th. If a player qualifies for both, he will be given a choice of which flight to compete in. The top 16 net scores will determine the 1st round of the Ladies Championship flight.
Champions and finalists will be competing for trophies, prizes and recognition on a perpetual board.
All Net contestants must have an established USGA or Indiana Golf handicap. All USGA and Royal and Ancient Rules for match play will apply. For any further questions or to sign up email dshanks@kempersports.com or stop in or call the Champions Pointe Golf Shop at 812-294-1800.