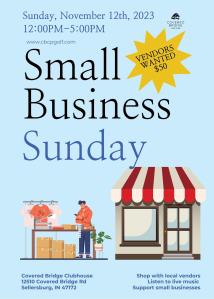 Dive into the heart of our community! As the holidays approach, there's no better time to discover and support local businesses and tradespeople that shape our community.
From handcrafted gifts and treasures to the services offered by our dedicated tradespeople, explore the passion and skill that thrives right at our doorstep. This event is more than just shopping—it's about connecting with the individuals who pour their heart into their work, understanding their craft, and celebrating the collective spirit of our community.
Whether you're searching for the perfect holiday gift or wanting to invest in the services of our local trades, this is your chance to 'shop small' and make a big difference. Refreshments, local music, and a friendly atmosphere will ensure you have a delightful experience while supporting the backbone of our local economy.
Come, be a part of this communal event and let's strengthen the bonds of our community, one purchase at a time.
To sign up to be a vendor, call or text Abby Glesing at 812.940.8233.